Prequel
Kirsten and Nick met in 2011 after the infamous Brisbane floods. A group of volunteers were distributing donations from the RNA Showgrounds to families that were flooded affected. Nick joined the organisation, that later became known as Connected, a month later, when they moved to a more permanent home in the ex-Hills Hoist Center in Banyo. Three thousand square meters of warehouse was set up like a department store, where people could restock their homes with furniture, white goods, bedding, clothes and other essentials. It was such a huge blessing to so many Brisbane families.
Nick started volunteering with the organisation and wrote a software programme that allowed allocation of goods for families of different sizes and structures, to ensure equal distribution of goods. Three months later Nick became Honorary Treasurer on the board of the Incorporated Association.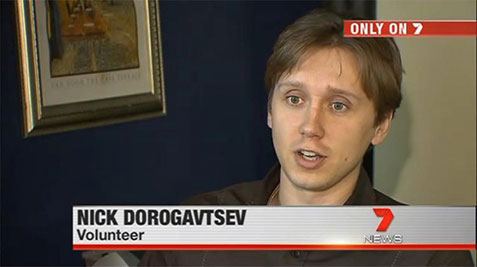 After meeting Nick and then Director of Connected at the cafe owned by Kirsten's partner Kate, the two decided to do a massive pillow drive to buy 120 brand new pillows for the flooded families. At the time Kirsten was looking to engage in some charity work after recently taking timeout from a solid career in General Business Management and Scientific research in the area of Biochemistry and Physiology. She joined Connected shortly after the pillow drive and accepted the appointment to Honorary Secretary.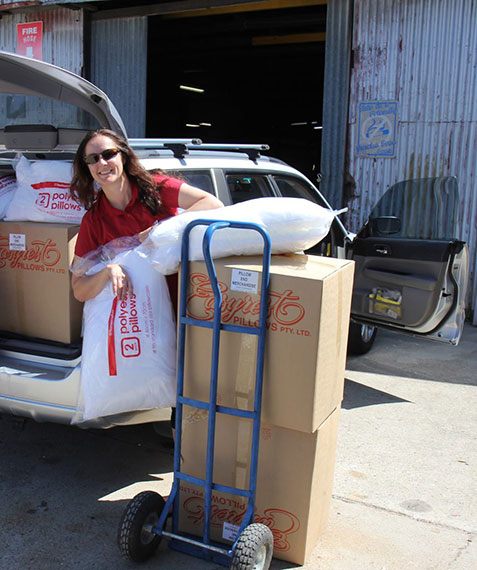 Kirsten took charge of the Corporate Governance and all proper registrations of the organisation. Working closely with the local federal member Honorable Wayne Swan (Treasurer of the Australian Government, at that time) Kirsten managed to elevate the status of the association to registered Charity and was able to get full registration to Deductible Gift Recipient Status. This is the highest level of concession for a Public Benevolent Institution.
By the beginning of 2012 both Kirsten and Nick had decided to step down from this charity in order to open their own business together. It was a good time to move on as Nick was running out of his life savings by this time and Kirsten was ready for the next chapter in her career. Kirsten had already begun reeducating herself by enrolling in Accounting and Bookkeeping studies, and as both she and Nick shared a common background in software and had complementary skill sets. aVers Cloud Solutions was born. It was at Connected where Nick and Kirsten were exposed to Xero Software for the first time and as it was natural when they began their business that it would be built on the backbone of the Xero ecosystem. This went on to become a passion for Nick in creating software that was tailor-made for clients.
Early Days and Planning
Planning was a very important first step.
Nick and Kirsten spent three months creating their brand, setting up cloud IT systems and writing a Business Plan. As this was a career change for both Kirsten and Nick, they successfully applied for a place in the New Enterprise Incentive Scheme (NEIS) and undertook Cert IV in Small Business, to hone thier skills and to enable them to run their own small business. Even though Nick had already completed a Masters in International Business and Kirsten had spent 10 years in various Operational and Genral Management roles, they knew to run their own small business they needed to be informed and prepared and this is why they decided to apply for NEIS.
The course allowed them to work side by side to complete a comprehensive 120 page Business Plan and introduced them to a lot of their first clients. Some of these early clients are still our clients 6 years later. NEIS also provided us an intorduction to our very best employee Rachael Lock who is still with us today. She is affecitonately dubbed our 'Forensic Ferret' as she can find any error and will not give up until she does.
Although we have moved with the times, a lot of the philosophies we outlined in that original Business Plan aVers still maintains today.
aVers Cloud Solutions is a one stop shop for small business owners looking to outsource their bookkeeping and to understand their financials. We offer peace of mind, convenience and above all, we give time back to you!
At the beginning, the company didn't have an office and we both operated from Kirsten's partner's Coffee Shop, calling it our "coffice". We were mobile and could go and visit clients onsite if needed giving us an edge over old-school bookkeeping practices.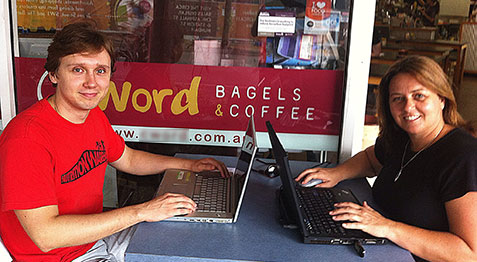 The company has maintained pure cloud philosophy from that first day, without compromise. This allowed us to embrace efficient emerging technologies from the very beginning and became our real 'point of difference'. We entered the new breed of bookkeepers who provided business systems support as well as accounts management and we still sit ahead of the bell curve for these services as we partner with a number of cloud based business systems that integraste with Xero and have also created our own connected app which we deploy to all of our clients..
Launching a new business is much more work than most people think. In writing a 120 page business plan, we were able to fully think through all aspects of our bsuiness from systems and finance to risks and exit strategies. It served as the guide in all that we did and developed, especially in those early years.We took the time to reinvent Cloud software and solutions that would make it easier to be able to give the very best service to our clients. We were committed to being different to other bookkeepers by being at the forefront of developing Cloud technologies. We are also very proud of the fact that we have our own full-time Software Engineer to continue to develop and improve our own systems and write integrated apps for our clients when the off the shelf software just doesn't fit.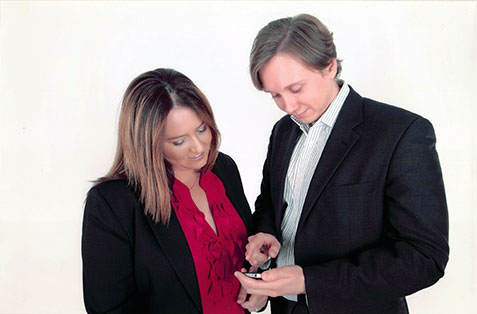 Not surprisingly it took almost 6 months before we got our first invoice paid. That was a very exciting day indeed, seeing all of our hard work and planning had now given us our first ever paying client. Now into our 6th year we have issued almost 5000 invoices.
First Clients and Contracts
Our first invoice was paid on 1st of May 2012. aVers employed a subscription based pricing model from the first day. It was very important to us to provide excellent service at a fixed cost. This enabled our clients to be able to budget better and helped them with their own cash flow. It also helped us to forecast our own recurring income so we could better manage through the cashflow issues that often plague small business. By requiring our clients to go onto direct debit for the fixed bookkeeping services we knew that our invoices were going to be paid and not only that, paid in advance.
Subscription-based monthly fees has become integral to aVers and our cash flow. Subscribing to a reliable service has a lot of advantages for our clients:
Flexibility - ability to add and remove service components as they are needed
Ability to scale - aVers have been proud to grow with our customers over the years.
Stronger Relationships of Trust - it is about improving systems constantly, not just getting a project done and moving on. We are constantly evolving and looking at 'best practice' technologies in our business.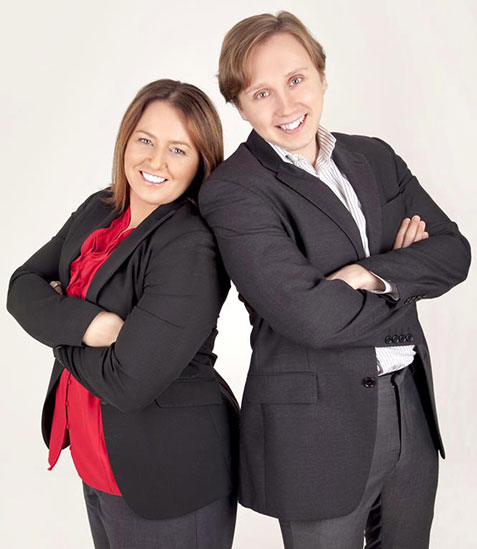 On 4th of May 2012 we reached one of our early goals and became Certified Xero Partners. Xero was the leading Cloud Accounting software at that time and has fully cemented that place over the past 6 years we've been with them.
On 14th August 2012, aVers became Certified Google Apps Partners (currently G Suite). This allowed us to provide full Cloud Migrations for businesses where their Finances and Operations could be taken to the cloud. Since then, we have maintained expert level and accreditation of both of these platforms, evolving with them and providing an integrated suite of services to our valued clients.
Since forming successful partnerships with Xero and Google (as well as a number of other strong players in the cloud business app space), regular cloud popularisation has become a regular routine for aVers. Kirsten and Nick gave talks to accounting firms, NEIS, regularly presented at networking events and created a consistent social media presence. Nick's passion for this kind of thing shone through and he created graphics that stood out and got people's attention. By writing blogs and creating vlogs that explained 'step by step' processes involved in Xero and Google Apps, aVers became a trusted source for business clients to understand how Xero works within its connected app ecosystem. This naturally led to new clients for aVers Cloud Solutions.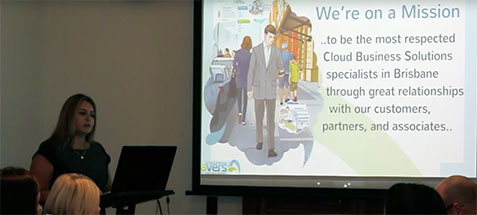 By using all the latest (at that time) and mind blowing cloud software like Prezi, along with Kirsten's unique business storytelling ability allowed us to reach hearts and minds of the most skeptical (anit-cloud) business owners. They wanted to talk to us about becoming our clients, because we engaged them. They were fascinated by this new technology.
Pictured below is Nick laying carpet in aVers first office at Royal Ave, Nundah. We occupied two office rooms. This was so exciting for us - from working out of coffee shops, we now had an office for us to work from and to meet clients.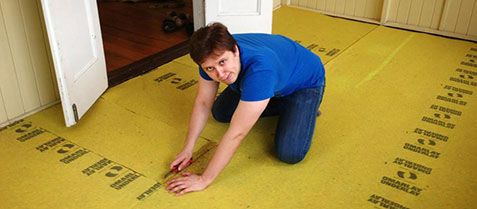 Our Bookkeeping department was going from strength to strength. We became a member of The Institute of Certified Bookkeepers and MYOB Bookkeeping Partner and continued to grow our expertise in the Xero network. Towards the end of 2013 aVers issued its 100th invoice and implemented Professional Software Testing Processes.
Larger Software Projects
aVers's Web Development service quickly became a custom software production as aVers's capability was far more than a normal website development company. 2013 began with the launch of our first custom made cloud application 'Chefs App'. We created this App for the buying group Unity Purchasing who Kirsten was working with at the time.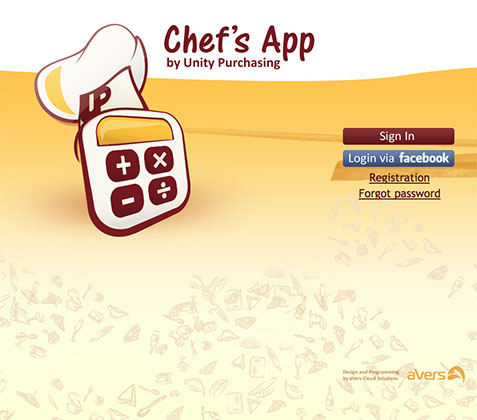 By using this App, Chefs all around Australia were now able to perform complex costing calculations for their new creative dishes with flexible "what if" scenarios for different portions. What used to take hours, now took minutes. Also, it was one of the first Facebook login integrations of its time and so perfectly lent itself to become a powerful marketing tool for Unity Purchasing.
On 2nd of April 2013 aVers hit their next major goal and became a Xero Silver Partner. In the meantime aVers had also become MYOB to Xero conversion experts with several successful MYOB to Xero complex conversions under their belt. This status still remains today. With a comprehensive understanding of not just the front end of Xero but also the API itself we are true experts in this field.
Later in 2013 we began our biggest web app development project with Table and Desks Australia. Utilising unique server architecture, allowed us to generate over 3 billion pricing versions on the spot for unique custom made (to the millimeter) tables and desks. End users (customers) could choose their custom design and delivery provider of their choice and get a precise quote and visual representation of the item in 3D. This integrated logistic system, allows T and D to track production of items in all Australian capital cities and forms the backbone of their manufacturing system.
Since the inception of aVers, Max Egorov, our Lead Software Engineer has been onboard for projects like those above. He is in charge of all architecture and programming related tasks and has pioneered our foray into integrations with the Xero and Google API's.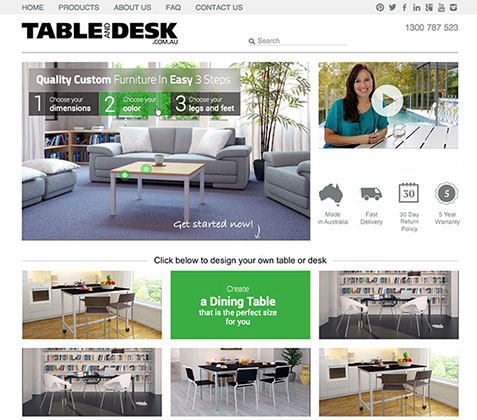 For the "Table and Desk" front-end website, all photo realistic images were computer generated by our aVers team using 3D rendering. This was a huge benefit to our client, saving them thousands of dollars in staging product shots. This project kept the aVers development team very busy for the next few years and the technology we became experienced in then led to us do an even larger project for 'Charter House Innovations' - the third largest furniture manufacturer in the United States.
aVers iBookkeep
In January 2014, during a fantastic business planning week on Queensland Sunshine Coast, the aVers Management team started developing specifications for our own software product 'aVers iBookkeep' ( aibk.com.au). We finished programming the first release in Jan 2014, we believed that this would have taken till 2016 to finish.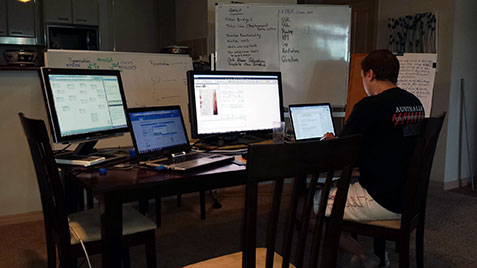 July 2014 was marked with two major events: we hired our first full-time employee - Lou Riley and deployed iBookkeep to our first client. Two months down the track we had successfully moved all of our managed bookkeeping clients onto our own platform eliminating the need to pay for other 3rd party providers we had been using until that point.
Growing and improving the system has become the main goal. Our efficiency and functionality have increased significantly due to this. Each year our system helps us to release better client engagement strategies in order to deliver the best personal service possible for our fast growing client base. These include integration of gMail for automatic document processing, an advanced query system; deploying Android App in addition to iPhone and releasing a tablet version for iPad and Android Tablet users.
"Would you be surprised if a plumber said to you: 'I am recommending this you-beaut spanner instead of this old screwdriver and you will need to pay me additionally for this as it's a far superior tool?" You probably would be furious, but in the bookkeeping industry it has become a norm. We recommend all sorts of integrated apps to make the process more automated but they all come at additional cost to the client.
iBookkeep was designed to crash the norms and make processes faster without additional cost for our clients. This was designed for professionals on one side with flexible functionality and it was intuitively simple on the client's side. It was designed for bookkeepers, not for accountants. 'Easy to use' has been replaced with 'efficient to use' software. The true tool for data engineers. It is all about controlling the information flow, not about punching in the numbers.
aVers employees are the bravest people in the industry, they were performing at an extraordinary level working with software in development for 2 years. To keep our costs down they helped with testing the product and giving valuable input from the perspective of the bookkeeper which is one reason why our software is so functional.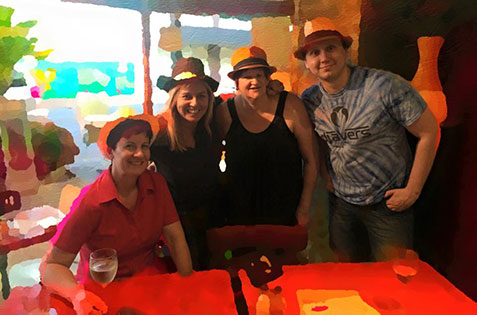 In the meantime, we have continued to promote cloud business solutions to the masses. Nick in particular took on many public speaking engagements and aVers participated in the Small Business Expo 2015 as well as other business focused events. Kirsten also took on a voluntary position as an Institute of Certified Bookkeepers (ICB) facilitator, facilitating the monthly meeting to keep other bookkeepers abreast of industry specific topical information and legislative changes.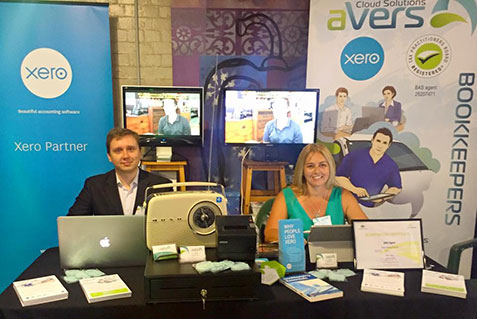 What's next - The birth of Harli
Always looking for ways to improve efficiency through automation, in late 2016 Nick started researching machine learning and Artificial Intelligence (AI) capabilities. 'Harli' our first foray into AI has emanated from his passion.This system enables us to do faster reconciliations with less human intervention as Harli learns our bookkeeping rules and principles. We are currently working very hard to make Harli smarter, and faster and we're pretty sure we are the only working live with AI at this time.
In the age of artificial intelligence (AI), we have found ironically that the value of human experience and personal touch is more important than ever before. Without a personal service business we would not exist.
Harli maybe AI but it is probably more accurately an IA (Intelligent Assistant). An assistant that helps us to achieve goals faster and on a more regular basis, so we can focus on value-added services to our expanding client base.
aVers has experimented with outsourcing some bookkeeping tasks to overseas staff for a few years, but after hundreds of hours of training and multiple mistakes, it is our opinion that bookkeeping needs to be done here, in Australia (unless, we are on holidays overseas and working remotely). It is our strong belief that days of outsourcing of bookkeeping activities overseas are numbered. With Harli as an intelligent assistant, we can achieve more with an experienced workforce in Australia, without the inefficiencies of outsourcing overseas.
Current aVers Management team:
Kirsten as "the director of NO!" the voice of reason, balancing out our over-enthusiastic team of inventors, to deliver relevant projects within meaningful budget and ensure that clients are serviced and staff are paid
Nick as the director of "we need to do this and that and that", leading inventions.
Rachael Lock Senior Bookkeeper that gets things done no matter how many "bombs" are exploding around her
Max Egorov as Lead Software Engineer, with very strong "let's build it!" attitude and unique ability to put together complex projects.
We are ready to bring even more value to our clients.
To be continued...