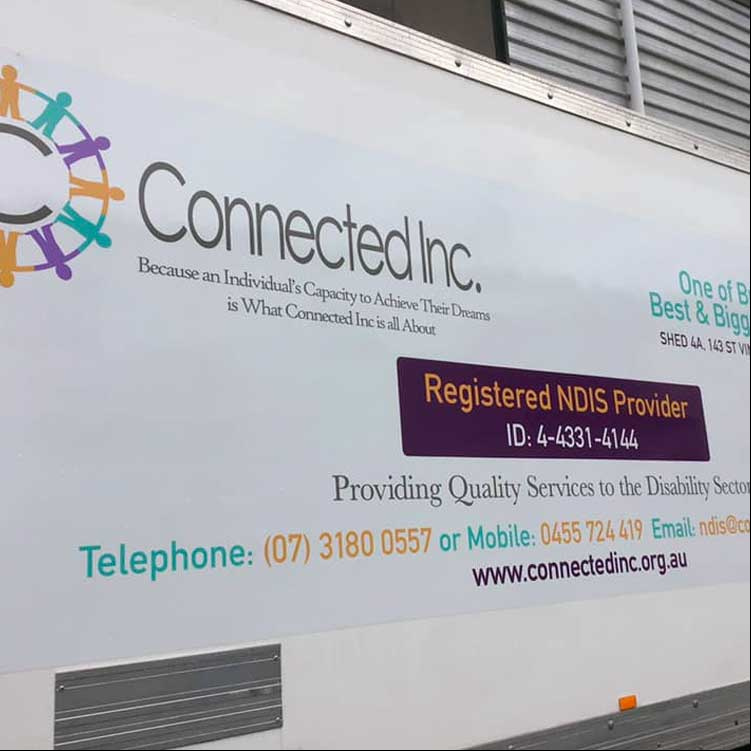 Connected Inc is a well-kept secret. I've lived in Brisbane for longer than this business has existed and hadn't heard of its inception or existence. So, let's explore what the organisation is all about.
A group of socially concerned people started Connected Inc. in the 2011 Brisbane floods. They came together in a warehouse at St Vincents Road, Virginia, to seek donations for those affected by the significant weather event the city and state was experiencing. When the crisis subsided, the group permanently established itself as a not-for-profit organisation to continue to help those in need. They would go on to give practical aid and assistance to people affected by: -

Hardship

Domestic Violence
Natural Disasters
Disadvantage
Disability
Government funding was not offered to Connected Inc., however, before the government rolled out the NDIS in Brisbane, the organisation sought NDIS registration, knowing that in being a registered provider, staff could assist people with disabilities as well as those experiencing social or environmental hardship.
There are many large organisations working with NDIS recipients, however Connected Inc. felt that with the right vision and business model,
it could offer a unique person-centred service
staff could support and empower people with disabilities as well as the disadvantaged.
Sometimes clients get lost in bureaucratic systems. Connected Inc. wanted to avoid this.
Clients are treated with respect, dignity, and empathy at all times.
Staff have the mental health and therapeutic communication skills required to work within Best Practice.
Staff have integrity, are reliable and professional.

Clients and their families share a 'meet and greet' with staff before support commences to determine if the working relationship is likely to be compatible.

Staff are required to commit to working with a client every shift for twelve months, except for sick leave and annual leave. As long as all else stays the same within the enforced absence and there isn't a different or unknown person greeting the client each shift, the client's support isn't compromised.
Clients can request a review if issues arise.

All the key people I spoke to in the organisation possessed a high degree of integrity and a strong sense of social justice. There is a determination to assist clients with respect for the individual and his/her immediate needs, and to ensure consistency in the provision of that assistance, in whatever form that takes, rather than a one size fits all approach.

Not only does this approach create a trusted rapport with those being supported, but it lessens the client's anxiety which will allow greater opportunities for skill development and for connecting successfully with others in the community.

Did you know NDIS has a code of conduct?
Connected Inc. management and staff commit to the aims stated within, not only the NDIS Code of Conduct, but to NDIS Practice Standards and the Convention on the rights of Persons with Disabilities.
Connected Inc. management understands that clients and their families are placing their trust in the staff to do the very best for them, and it prides itself on maintaining this vision at all times.
But how is the business funded, if it doesn't receive a subsidy from government, I hear you ask?

Donations from the community

Revenue generated by a large op shop
Donations are both monetary and material.
People who seek help can receive furniture, clothing and linen to start a home away from domestic violence or the dangers of the street.

Businesses which have perfectly serviceable stock remaining after closing down sales, or businesses that have suffered an incident resulting it damage to stock rendering it unsalea ble, will donate useable items. Though items may have suffered some damage, staff at Connected Inc can launder or repair them. These goods will eventually benefit someone in need.

Connected Inc. has a Men's Shed on the Virginia premises where retired electricians who volunteer their time, check the safety of donated electrical goods.

The op shop gratefully receives donations, and you can drop them directly from your vehicle to the dock on the side of Shed 4A, 143 St Vincents Road, Virginia.

It's worth noting: -
Some larger, more commonly known names in the registered charity arena often retain all but twelve cents in the donated dollar (yes, you read that correctly) but when you donate to Connected Inc. the majority of the money benefits the people the organisation assists. There are a number of people on staff now, who receive a wage, but their expertise has brought the business forward in invaluable ways and management greatly appreciate their contribution.

Larger organisations that do receive funding from government occasionally purchase furniture and electrical goods from Connected Inc. to give to their own clients.

The organisation also sends containers of donated clothing and household goods to poverty-stricken localities or regions affected by environmental calamity. These recipients may be as close as our Pacific neighbours or as far away as Sierra Leone. The unmet needs of people from the worldwide community are as urgent as any local requirements.
Okay, so this is all well and good, but how can Connected Inc. help NDIS recipients?

Daily living skills: - Staff can assist an NDIS client to manage daily personal tasks to enable them to live independently.

Participation in community, social and civic activities: - Assisting clients to
develop the ability to participate in community, social and civic activities and then supporting them when engaged in such ventures.
Assistance in coordinating or managing client supports: - There is short- and long-term help available that focuses on strengthening a client's ability to coordinate his or her supports.
There is help available to assist a client to transition to supported independent living and to manage at home while still participating in the community.
What's more, there is invaluable support in the following areas:-

| | |
| --- | --- |
| Support Connection- | This assistance is to build the client's ability to connect with informal, community and funded supports, enabling the client to get the most out of his/her plan and achieve goals. |
| Coordination of Supports- | Clients are given assistance to build the skills they need to understand, implement and use their plan. This may mean working with a support coordinator to ensure a mix of supports are used to increase the client's capacity to maintain relationships, manage service delivery tasks, live more independently and to be included in the community. |
| Assistance with accommodation and tenancy obligations- | Connected Inc. staff can teach tenancy responsibilities where there is the desire and capacity to learn them. |
| Assistance with decision making, daily planning, and budgeting- | These may seem trivial to some, but they are monumental tasks for others to master. |
| Assistance with Travel/Transport arrangements- | This may include learning to use public transport or using an adapted vehicle. |